Top Ten Tuesday is hosted by The Broke and The Bookish. This week's topic is Fall TBR. This list is mostly books that I am excited about finally attacking after they came in at the library.
(Note: This is a very shortened version of the book stack that came in at the library. I had 45 holds come due at once. This is fine. This is normal. )
10.
The Raven King, by Maggie Stiefvater
Because all my friends are jumping off this bridge shrieking about how fun it is, and I'm a completionist. So yayyyyy here I go. (YA Fantasy.)
9.
Nobody Likes a Goblin, by Ben Hatke
So far I've enjoyed everything I've read by Ben Hatke, and this is from First Second, which is a frankly stellar graphic novel company. So bring on the picture books. I hear this one is about friendship! (Picture Book, Fantasy)
8.
Radiance, by Catherynne Valente
All I know about this is space whales. SIGN ME UP FOR SPACE WHALES. On reflection, I've read some horrifying stories about space whales, so I'm really not sure why I'm so enthusiastic. Hmmm. OH WELL. (Adult SF, because I am a creature of dragons and jetpacks.)
7.
Scarlet Epstein Hates It Here, by Anna Breslaw
I read a 5-chapter sampler, it was hilarious, I need to know what happens next. (YA Contemporary, because I'm trying to diversify my strict dragons-and-jetpacks diet.)
6.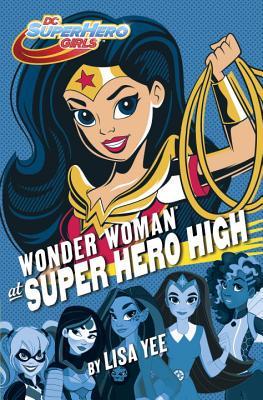 Wonder Woman At Super Hero High, by Lisa Yee
I'm prepping for the new movie. (JK JK I just like keeping up with what is going on in Middle Grade with tie-ins, etc, and also this has gotten adorable reviews.) (Middle Grade Fantasy.)
5.
What Works: Gender Equality By Design, by Iris Bohnet
Katie read it and said it was great. I'm trying to read more non-fiction. Uuuuuuuugh okay I can do this. (Adult Non-fiction, because I'm trying to earn some grown-up stripes.)
4.
Poisoned Blade, by Kate Elliott
The book this one is the sequel to was one of my favourites of last year, which you would know if I had ever written that "favourites" blog post. Oops. POLITICS AND COURT INTRIGUE AND THE SOCIAL SCARS OF COLONIALISM AND CONQUEST AND A ROMAN-INSPIRED WORLD. THIS BOOK MADE ME CARE ABOUT SPORTS. (YA Fantasy, because You Only Live Once, So You Must Live In As Many Worlds As Possible, i.e. YOLOSYMLIAMWAP.)
3.
Once Broken Faith, by Seanan McGuire
The newest Tobey Date, and my birthday present from Bekki! I am caught between can't-wait-to-dive-in and oh-no-my-babies-i'm-afraid. I just care about everyone so much. (Grown-up Urban Fantasy. No dragons though. (yet?))
2.
Return, by Aaron Becker
The long-awaited conclusion to the award-winning wordless picture book trilogy. A previous books in the series won the Caldecott Honour. I may have talked very fast and in a very high-pitched voice to Riley on the phone when I saw this was in at the library.  (Picture Book, Fantasy.) (I started reading this while I was having blood drawn and it was so beautiful that it successfully distracted me.)
And finally, 1.
The Swan Riders, by Erin Bow
Sequel to last year's amazing The Scorpion Rules, which is hard science fiction sharpened to a needle's point and deployed with the precision of poetry. I am so scared. I am so excited. I have so many feelings and I am afraid of all of them. *reaches out to pet book and pulls hand back as though afraid of being burned*
So there's my top ten, inspired by the amazing and too-far-away Bahnree. Tell me yours!